Army wife miscarried 'after being ordered to fly'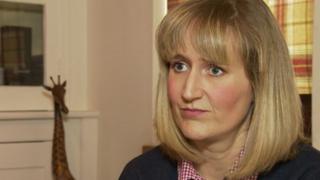 An Army wife said she suffered a miscarriage after being "ordered" to fly against medical advice.
Kate Howe, 40, was stationed with her husband David in Kenya when she had a pregnancy scare with her second child.
Against her doctor's advice, Mrs Howe said her husband was ordered by the Army to "get her to Nairobi". Seven days later she miscarried her daughter, Harriet.
The Army said it could not comment on individual cases.
In 2011, Mrs Howe, from Calne in Wiltshire, was 20 weeks pregnant and living in Nanyuki when she had a small bleed.
'Devastated and angry'
"My consultant advised me not to fly and to have bed rest and that's what I should have been doing," she said.
"Instead the Army came and basically said if I stayed in Kenya I could die - and we were ordered to get me out of the country as soon as possible."
Despite "begging" the Army to let her stay, Mrs Howe said she was given the weekend to "pack up her life".
She said she told the Army the advice it was making its orders on was "against the medical advice from people who had actually examined me".
On the flight to Nairobi, she experienced another bleed and, after being admitted to hospital, her waters broke and she miscarried.
In 2011, the family made a service complaint, claiming the stress Mrs Howe had been under had resulted in the stillbirth.
Now, after a four-year wait, Mrs Howe said they had received an apology but a judgement had found no "individuals culpable".
She said the response left her "devastated and angry".
An Army spokesman said: "Whilst we cannot comment on individual cases we can be clear that soldiers and their families continue to receive outstanding medical care both in the UK and when deployed overseas."