Armed robbery at Lacock jewellers Watling Goldsmiths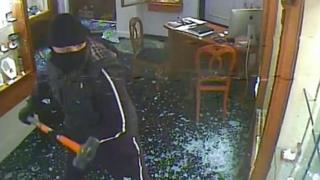 Three men wearing balaclavas and armed with sledgehammers and crowbars have raided a jewellery shop in Wiltshire.
Police said the gang snatched a "substantial amount of jewellery" from Watling Goldsmiths on East Street, in Lacock, shortly after 10:00 GMT.
They escaped in a white car that was later found abandoned near Gastard.
John Watling, the shop's co-owner, said one of the gang was wielding a bar and threatening staff while another smashed glass cabinets with a sledge hammer.
"They were here for a total of about three minutes," he said.
"It wasn't pleasant and all the staff were pretty shook up as anybody would be."
Wiltshire Police said no-one was injured in the robbery and have appealed for anybody with information to contact them.