Fashion's 100 objects exhibition in Bath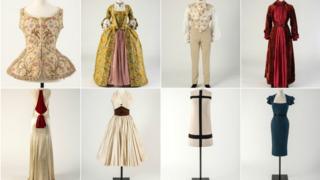 From bustles to body-con dresses, an exhibition telling the history of fashion in 100 outfits has opened in Bath.
The Museum of Fashion has picked the "star" outfits showing how fashion has evolved from the 1600s to the present.
Manager Rosemary Harden said the collection "showcases the best of the museum's huge collection of outfits".
Here she picks out the key outfits from the exhibition which runs until January 2018.
The exhibition at the Museum of Fashion in Bath runs until January 2018.