Eat Square reaches agreement with Square Pie over use of name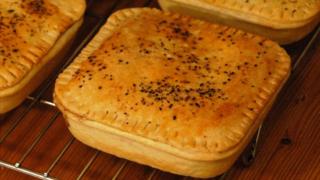 A Wiltshire company which makes square-shaped pies has won a battle to keep its name.
Eat Square in Bradford-on-Avon was told it could not call its pies "square" by London firm Square Pie Limited.
The phrase is a registered trademark of the London pie maker, which took action to protect its intellectual property rights.
Both parties have signed an agreement which allows Eat Square to keep the name and keep making square pies.
Eat Square was set up in 2014 with the idea of offering "square meals", including square pies.
The company is currently expanding production.
Alex Joll, Eat Square founder, said he had been "so worried we might lose our name and all that we have worked so hard for."