Legal highs warning as boys taken ill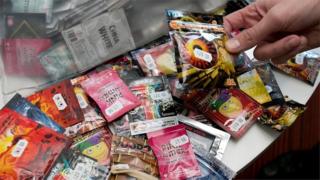 Three teenage boys were left critically ill after apparently after taking legal highs in Salisbury.
The 15-year-olds were taken to hospital after the incident in Queen Elizabeth Gardens.
All have since been discharged and are said to be recovering but police are warning parents to talk to their children about the dangers of drugs.
It is thought the boys had taken legal highs, chemicals which mimic the effects of illegal drugs, on 4 March.
Wiltshire Police are not naming the boys or their school.
Insp Dave Minty said: "These drugs may be so-called legal highs but there is no way of knowing what chemicals are in these substances and what the consequences of taking them will be."
The government's Psychoactive Substances Act comes into force in April.
It will place a blanket ban on producing or supplying any substance intended for human consumption that can produce a psychoactive effect, unless it has been specifically excluded.