Swindon beggars could face £100 fixed penalty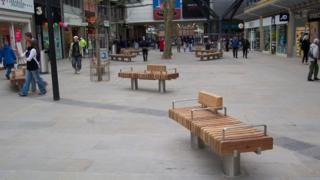 Beggars, aggressive charity collectors and dog-walkers could be fined under an order now being enforced in Swindon town centre.
A fixed penalty of £100 will be issued to those caught breaching the order, which also prohibits marking surfaces, street trading and skateboarding.
It is designed to eliminate the threat of anti-social behaviour in the town.
Swindon Borough Council, Wiltshire Police and inSwindon will enforce the Public Spaces Protection Order (PSPO).
If the £100 fixed penalty is not paid, court fines of £1,000 could follow, the partnership has warned.
The order was agreed in November and launched in December but enforcement started earlier on Monday.
Councillor Emma Faramarzi, from the authority, said: "We want people to enjoy coming to the town centre and not to be put off by those people who think they can spoil it for the majority.
"The PSPO has been introduced to encourage people to change their behaviour and to be proud of their local communities."