Wiltshire Council: Adult social care levy doubles bills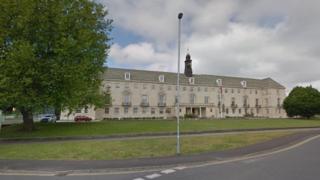 Households in Wiltshire are to pay a 2% adult social care levy on top of a 1.99% rise in council tax.
Wiltshire Council said it was committed to protecting "those who are most vulnerable".
Conservative council leader Lady Scott said: "It builds on our ambitions and our pioneering approach to delivering services."
Cuts of £25m were agreed, including job losses, axing the Wiltshire Hopper service and closing children's centres.
'Right infrastructure'
The council said the 1.99% rise in council tax was the first in six years.
It said the social care levy "will be used exclusively for adult social care to contribute towards the rising costs in this key area".
In terms of capital spending, Lady Scott said: "We are spending £21m per annum on improving roads across the county until 2020.
"We recognise how important this is to local people and... the right infrastructure is critical to supporting the local economy."
She also confirmed £80m would be invested over the next two years for the ongoing Community Campus project.
A last-ditch proposal to save the Wiltshire Hopper bus service by the Liberal Democrats was rejected.
The proposal involved reducing the amount of mileage councillors would be entitled to claim to raise £30,000 of the £50,000 needed to keep the service running.
Liberal Democrat group leader, Glenis Ansell said: "In our proposals last year, we asked for a 1% rise which could have saved the Hopper service, the music service, but that was turned down.
"But a year on, it has been increased fourfold. I wonder how people will afford this.
"The Conservatives promised they would not increase council tax."
The council also said it would shed some 200 jobs, and charges would also go up for a range of council services such as green waste collections and cremations.