Wiltshire man loses legal battle against solar farm near £3m home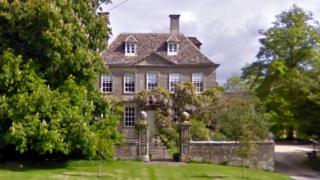 A Wiltshire landowner has lost a Court of Appeal battle against a 54-acre solar farm near his £3m home.
Daniel Gerber, from Broughton Gifford, initially won a High Court order quashing the 2013 planning permission for the £10.5m farm near Gifford Hall.
But the Court of Appeal has overturned the High Court decision because of Mr Gerber's delay in taking legal action.
Lord Justice Sales said speedy action was required in such challenges to be fair to everyone, including developers.
Mr Gerber said he only became aware of the development near his Grade II-listed home when construction work began in March 2014.
The following August he launched legal proceedings, claiming the solar farm would have a detrimental impact on the setting of Gifford Hall.
High Court judge Mr Justice Dove extended time limits to allow Mr Gerber to bring judicial review proceedings and then allowed his challenge.
But three appeal judges ruled Mr Justice Dove had been wrong to extend time.
'Law not followed'
Lord Justice Sales said Mr Gerber had given no good excuse for the lengthy delay in launching his challenge.
The judge said plans for the solar farm had been widely publicised locally and landowners were "expected to be reasonably observant in keeping an eye on developments in their locality which might affect them".
He also said "major financial detriment" would be suffered by the site operators if planning permission was quashed.
Norrington Solar Farm Limited and TerraForm Power had told the courts that dismantling and restoring the site would cost £1.5m.
Mr Gerber said: "Fundamentally, this case is about Public Law and a Local Planning Authority not following the law in protecting the setting of a Conservation Area (The Common) and a Highly Listed Building.
"The Court of Appeal seems to have overlooked this. Hopefully, the Supreme Court will not."