Illegal teeth bleaching man still offering service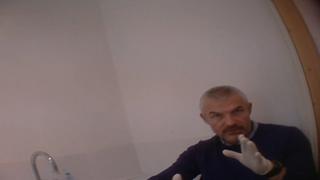 A BBC investigation has found a man offering to carry out illegal teeth whitening only two years after being fined for the offence.
Jason Edworthy was secretly filmed offering to use chlorine dioxide to whiten a reporter's teeth at a clinic in Royal Wootton Bassett, Wiltshire.
In 2014 he was fined for "unlawfully practising dentistry" in Hertfordshire after a customer suffered burned gums.
He would not comment when contacted by the BBC.
Two years ago he was fined £250 for unlawfully practising tooth whitening in Hemel Hempstead and Greater London, contrary to the 1984 Dentists Act.
In addition to the fine he had to pay nearly £900 in costs but magistrates told him they had noted he had stopped whitening teeth when he "realised that tooth whitening was illegal".
But an undercover reporter from BBC Inside Out West set up an appointment with Mr Edworthy at a clinic in Royal Wootton Bassett, where he rents space.
During a secretly-recorded discussion, he confirmed he was not a dentist, nor was he registered with the General Dental Council, but offered to whiten her teeth for £195 using chlorine dioxide.
The British Dental Association says chlorine dioxide-based whitening products should not be used due to "serious concerns" about safety.
The General Dental Council would not comment on individual cases but Francesca Keen, the GDC's head of illegal practice, said: "Only dentists and dental care professionals who are on our register can carry out tooth whitening."
She added: "We take every allegation of illegal practice very seriously and consider each and every complaint received. If you are carrying out tooth whitening illegally, we can and do take action - which includes criminal prosecutions."
You can see more on Inside Out West on BBC One in the West region at 19:30 GMT on Monday 22 February. It is then available on the BBC iPlayer for 28 days.