WW2 veteran from Salisbury receives Legion d'Honneur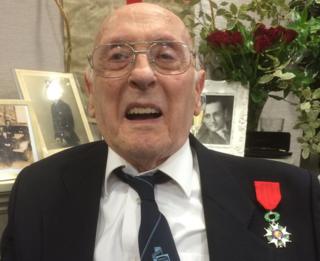 A World War Two veteran from Salisbury has been presented with France's highest honour for bravery.
Alan Richardson, 92, was the First Lieutenant on a D-Day landing craft which, under heavy fire, carried ammunition to Sword Beach in 1944.
The Legion d'Honneur was given to him by the French consulate at the Gracewell of Salisbury care home where Mr Richardson lives.
His daughter, Sara Hubbard, said it was a "most momentous day" for the family.
"We're immensely proud of his achievements and of his actions on D-Day.
"What an inspirational father he's been to his four children," she added.
The medal is France's top accolade for recognising people who distinguish themselves through civilian or military valour.