Wiltshire's £4m air ambulance site plan gets backing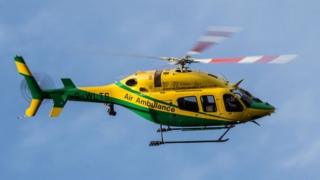 Outline plans for a £4m purpose-built base for Wiltshire's air ambulance have been given the go-ahead.
The base in Semington, near Melksham, will bring together the air ambulance helicopter, aircrew and charity team onto one site for the first time.
The helicopter and aircrew are currently based at Wiltshire Police headquarters in Devizes but the lease is due to run out at the end of 2017.
A public consultation will now be held on the proposed design.
'Enhanced medical cover'
The outline planning application received no objections.
Kevin Reed, Head of Operations at WAA, said the site at Outmarsh Farm was chosen after a year-long search.
"[It] will enable us to reach all parts of the county within 11 minutes," said Mr Reed.
"As Melksham does not have an ambulance station, we believe that Wiltshire Air Ambulance would provide enhanced medical cover for the area."
Paramedics working as part of the helicopter team will also be available to respond to road traffic collisions, heart attacks and strokes using a rapid response car.