Royal Wootton Bassett residents seek clarity over 'unsafe' relief road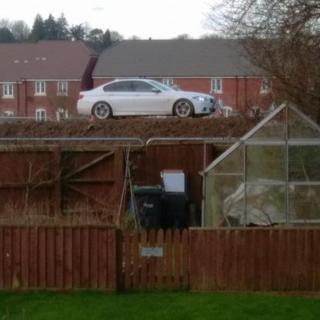 Residents living by a "poorly-constructed, unlit and unmarked" temporary relief road in Wiltshire have called for clarity on its safety.
The £3m route in Royal Wootton Bassett, which is not yet in use, has been built to save a 24-mile detour while work is carried out on three railway bridges.
But some residents fear the height of the road, just metres from their back gardens, is cause for serious concern.
Network Rail said it was investigating the issues raised by residents.
'Worst-case scenario'
The firm has developed the road to keep traffic flowing while it carries out rail electrification upgrades in the area from next month until 2017.
However, Keith Talbot of Dunnington Road described it as a "relatively narrow, poorly-constructed, unlit, unmarked road, raised quite high in the air above the levels of the back gardens of the houses adjacent to it".
He said it needed making safe with crash barriers and markings "so we're not suffering the worst-case scenario of a 38-tonne vehicle running off and into someone's back garden".
Another Dunnington Road resident, Caroline Redmond, said the relief route was needed but so was clarity on the many issues they have raised with Network Rail.
"What we're trying to do is understand some factual written information to the residents on pollution control, noise control, weight control and speed control."
A Network Rail spokeswoman said: "We are aware of residents' concerns and are investigating the issues raised.
"We will get back to residents as soon as possible."