Thirty-mile roadworks detour 'ridiculous'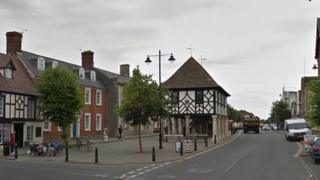 Plans to send motorists on a 30-mile (48km) detour to avoid a section of roadworks in Wiltshire have been described as "ridiculous".
A 300m (984ft) stretch of Royal Wootton Bassett's High Street is due to shut for five nights from 8 February.
Residents have criticised council plans to divert drivers via Avebury and Calne when shorter routes are available.
But Philip Whitehead, from Wiltshire Council, said it does not want HGVs on "minor roads - causing problems".
The A3102 through the town is due to be closed between 19:00 GMT and midnight, next month for resurfacing work.
Town councillor Chris Wannell said the planned diversion route was "absolutely ridiculous" and "stupid".
"I've lived on Nore Marsh Road for nearly 47 years and every time there's been work on the High Street, New Road and Nore Marsh Road have always been used as a diversionary route," he said.
'Unsuitable roads'
"I can not see the sense in changing it."
Mr Whitehead said the council was "not allowed" to divert heavy good vehicles "down unsuitable roads".
"Locals will make their own way around this, they always do and we're happy with that because that eases the traffic on all roads," he said.
"But you do not want large long-distance commercial vehicles trying to find their way down little cul-de-sacs and side streets - it doesn't work."