Honda car production in Swindon to go ahead after fire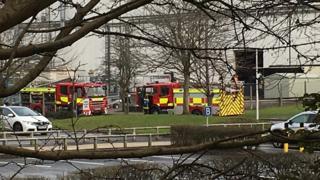 Production at Honda's factory in Wiltshire will go ahead "as normal," following a fire which left two workers needing hospital treatment.
Fire crews were called to the Swindon site on Saturday morning.
Four fire engines and an aerial unit dealt with a fire in the die cast facility which was evacuated.
A spokesman for the firm said: "A small equipment fire occurred...while routine weekend maintenance work was taking place.
"Two associates were taken to hospital as a precautionary measure."
He added: "There will be no adverse impact to production which will continue as normal on Monday morning."
The Japanese firm employs about 2,500 workers in Swindon, which is described as the "global hub" for Honda's five-door Civic model.