Arrest over 'social media threats' to college staff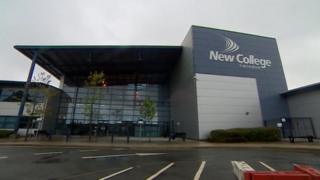 A man has been arrested following reports threats were made on social media against a member of staff at a college in Swindon.
Armed officers went to New College on Thursday afternoon. Wiltshire Police said nobody was physically threatened at the college and no-one was hurt.
The 32-year-old from Malmesbury was arrested "at another location", police said, and is now being held in custody.
New College has around 3,000 16-19 year old pupils and adult learners.