Marlborough College pupil and WW1 gunner Harry Fox's memoirs published online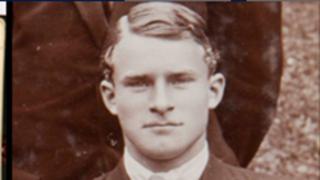 War diaries, photos and letters from a young World War One gunner have been published on his old school's website.
Harry Fox, from Somerset, was a pupil at Marlborough College, before being called up and then sent to fight in France in 1917 when he was 19.
His son Richard Fox ,77, said he found the memoirs in a suitcase after his father's death.
Mr Fox thanked the Marlborough College archivists for their "amazing amount of transcribing and editing work".
He said his father had suffered from shellshock and he now felt "ashamed" for not asking "more questions while he was alive", but added that "perhaps it was a good thing that I didn't".
One of the letters Harry Fox wrote in September 1917, listed the "little comforts" he missed and he asked for "tins, chocolate, potted meat, cafe au lait, cocoa, butter if possible and some good cigarettes".
His son said one of the "worst" moments when reading the diaries was his father's description of the first retreat when "the Germans threw everything at us".
"And they were a very efficient military organisation and created complete chaos and havoc in the retreat, and his description of this is spellbinding and horrifying."