Swindon radiotherapy unit approved by NHS England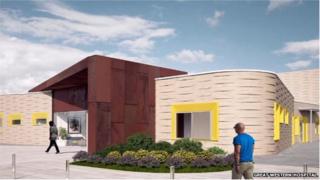 A new radiotherapy unit in Swindon has secured approval from NHS England, meaning it could open by late 2017.
The multimillion-pound unit could save some patients a 70-mile round trip to Oxford for treatment.
Swindon's Great Western Hospital needs to fundraise £2.9m before the build can begin.
The hospital said the announcement was "one step closer" to creating the unit and has asked for people to back its Brighter Futures fundraising appeal.
Brighter Futures is the hospital's charity, which has so far raised £350,000 towards the unit.
The £16.5m capital costs are being met by Oxford University Hospitals which agreed to make the investment last July.
Kevin McNamara from the charity said: "Now the final approval has come, we can push forward and generate even more funds."
"Radiotherapy is expensive, it is nuclear medicine ultimately.
"We have to build very deep bunkers to house the equipment and the linear accelerators which provide the treatment are expensive.
"It's a big project and that's part of the reason it has taken some time to get all the relevant approvals.
"While that's been happening we've been busy planning the unit...so we can hit the ground running."