Swindon Lydiard Park privatisation plan could be put on hold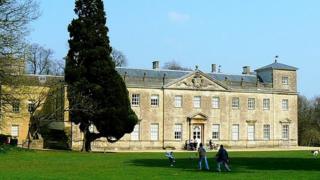 Proposals to hand over a park and stately home in Swindon to a private organisation could be put on hold.
Swindon Borough Council is considering allowing a private firm to manage Lydiard House and park to save money.
Campaign group The Friends of Lydiard expressed an interest in taking it on at a meeting to discuss the matter which drew more than 500 attendees.
The council said it would consider a three-month halt to the plan to allow the group to prepare a bid.
The Friends of Lydiard's petition opposing the council's plan has gained more than 8,000 signatures and it wants to set up a charitable trust to run the park.
Spokesman Mike Bowden said: "Lydiard was not gifted to the people of Swindon for our councillors to do as they wish.
"If they don't feel able to run this place, there are lots of talented people who do want to run it and they don't want it passed into the hands of the private sector who do not understand its importance to the town."
The authority said it needed to reduce the Lydiard site's annual subsidy of £450,000 and was exploring "commercial opportunities".
It already leases part of the park to tree-top adventure company Jungle Parc and regularly hires out the space for private events.