Swindon Lydiard Park petition rejected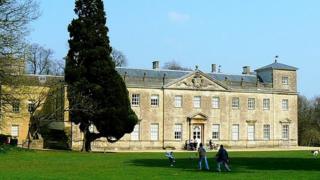 Campaigners trying to stop a park and stately home from being run by a private firm have had their 8,000-signature petition rejected.
Swindon Borough Council is considering allowing a private organisation to manage Lydiard House and park in order to save money.
The Friends of Lydiard Park launched a petition opposing the plan, but the authority says it is not valid.
Its rules state a petition must include the names and addresses of signatories.
Once a petition gets 1,500 signatures it normally qualifies for a debate in the council chamber.
The Conservative-controlled authority said despite the petition being rejected, it will still allow a debate on the issue later this month, by using a motion put before councillors at a meeting.
The council's stance has been branded "ridiculous" by the local Labour Party, and The Friends of Lydiard Park said it is "surprised" by the development.
Change.org which hosts the petition said it "would be pleased" to liaise with the council to help them respond directly to everyone who has signed it.
The authority said it needs to reduce the Lydiard site's annual subsidy of £450,000 and is exploring "commercial opportunities".
It already leases part of the park to tree-top adventure company Jungle Parc and regularly hires out the space for private events.