Wiltshire to Bath RUH hopper bus likely to be withdrawn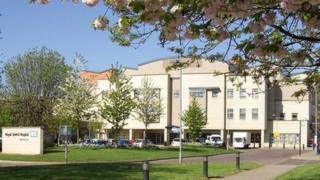 A door-to-door bus service which takes patients from Wiltshire to the Royal United Hospital (RUH) in Bath is likely to be withdrawn in April.
The bus has been paid for by Wiltshire Council since 2007 at a cost of almost £160,000 a year.
In March last year, the council stopped funding it as part of the budget cuts and temporary funding was provided by the Better Care Fund until April 2016.
The options are to fund a reduced service costing £95,000 or close it.
'No spare resource'
Money provided by the Better Care Fund was always "a temporary solution" Wiltshire Clinical Commissioning Group (CCG) said, with the agreement that the situation would be subject to a review by Wiltshire Council to identify ways of reducing the cost of the service.
Philip Whitehead, the ruling Conservative group's spokesman on transport, said he had hoped to propose jointly funding a reduced service with Wiltshire CCG.
This option would have cost the council about £45,000, but Mr Whitehead said the CCG has told him it will not support that.
"As it stands at the moment I have no budget for this service whatsoever and I cannot see that happening unless something drastic happens," said Mr Whitehead.
The CCG told the BBC that since 2007 it has provided a non emergency patient transport service costing £2.3m per year.
The service covers the whole of Wiltshire, transporting patients to the RUH, Great Western Hospital and Salisbury Foundation Trust Hospital.
In a statement it said: "The CCG maintains that the hopper service does not provide an equitable service for all Wiltshire patients, and is restricted to transporting people to the RUH only.
"The CCG has no spare resource to be able to fund the hopper service as well."
A final decision on the hopper service will be made by Wiltshire Council on 19 January.