Ebola scientist from Wiltshire 'staggered' by CBE honour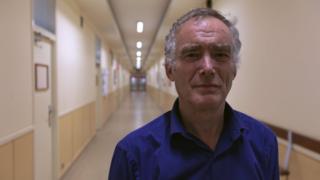 A leading scientist from Wiltshire has been honoured by the Queen for helping combat the Ebola virus in west Africa.
Dr Tim Brooks, who set up three laboratories in Sierra Leone for virus testing, has been made a CBE for services to public health.
He said he was "absolutely staggered" to be recognised for his work.
A total of 1,196 people have been honoured by the Queen, with just over three-quarters of recipients recognised for work in their communities.
New Year Honours 2016
76% for "outstanding" work in their communities

48% are women

24 men receive knighthoods

15 women become dames
Dr Brooks heads up Public Health England's work on rare and imported pathogens at Porton Down in Salisbury.
Once the laboratories in Sierra Leone were up and running, they were used by some 400 volunteers to test for the Ebola virus.
'Incredibly proud'
"The work they did was critical in identifying who was a case and who was not, where people had died from the virus and where there might be another outbreak, and to bring the whole outbreak under control," he said.
"I'm incredibly proud of all that they did.
"I do feel for my team who stayed behind [in the UK] because without them I could have done nothing. They need some recognition too."
The Ebola outbreak in west Africa was first reported in March 2014 and since then 11,315 people in six countries; Liberia, Guinea, Sierra Leone, Nigeria, the US and Mali, have been reported as having died from the disease.
The total number of reported cases is believed to be nearly 28,650.