Disabled teen's death partly caused by neglect, inquest rules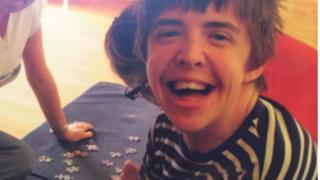 A disabled teenager who did not receive the right care in hospital died from natural causes contributed to by neglect, a coroner has ruled.
Robin Brett, 18, died last June at Swindon's Great Western Hospital.
He had a condition which meant he could not produce the hormone essential for regulating internal temperature and he required regular doses of cortisol.
The hospital has apologised to his family and said it would act upon the recommendations made by the coroner.
'Disappointed'
Dr Guy Rooney, medical director at Great Western Hospitals NHS Foundation Trust, said: "We offer our deepest sympathies to Robin's family and apologise for the standard of care Robin received.
"Following our investigation, we were disappointed to find Robin did not receive the quality of care we expect and have since introduced new ways of working to improve the safety and quality of our care to all patients."
The improvements include using an electronic system to alert staff to missed medication, new training relating to younger patients with learning disabilities and the introduction of a nationally recognised assessment tool.
Mr Brett's mother, Theresa Brett, has pledged to write to every hospital in the country to try and prevent the same happening to others affected by Congenital Adrenal Hyperplasia.
She said he was first admitted to hospital with constipation after an enema led to him vomiting.
On the ward he was given a dose of the hormone cortisol, but she believes it was insufficient for full recovery.
His condition deteriorated and he died on 14 June 2014.