Cat smeared with dog poo in Swindon attack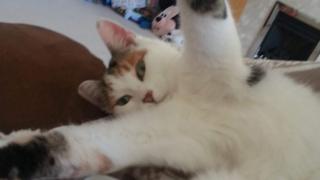 Police are investigating after a pet cat was held down and smeared with dog poo by a man in Swindon.
They were alerted by owner Hannah Bissell after she saw her cat Cinnamon being attacked by a man outside her house in Twineham Road on 12 December.
The four-year-old cat suffered scrapes to the body in the attack and had to be checked by a vet.
Ms Bissell described it as "a shocking incident" that she "wouldn't wish on anybody".
"Whoever did it is not in the right frame of mind and it does make you wonder what else they're capable of," she added.
Wiltshire Police is appealing for anyone who can help identify the offender to contact the force.
He is described as being a white male in his late twenties, of average height and build with light brown hair and he wore a navy jumper.
Another man who had been watching what happened also ran away with him.
A force spokesman said: "The man who did this is likely to have returned home with excrement all over his hands and possibly his clothes."