British backpacker Jordan Jacobs 'found on Thai beach'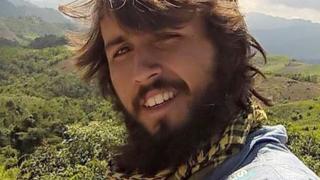 A British backpacker who went missing for almost a week in Thailand has been found strolling on a beach, police say.
Jordan Jacobs, from Lyneham, Wiltshire, had been last seen at a restaurant on the island of Ko Phi Phi Don on Saturday.
His family, who had reported him missing to the Foreign Office, were increasingly concerned for his welfare.
Thai police told the BBC Mr Jacobs, 21, was found on the beach in the Phi Phi archipelago.
'Fine and healthy'
Police in Ko Phi Phi have said Mr Jacobs was found by officers walking in Loh Dalum Bay on Ko Phi Phi Don.
A spokesman said: "He was walking around, looking for a diving centre either to apply for a job or do a course.
"We took him to the police station and contacted the embassy and explained everything. He is fine and healthy."
The 21-year-old had been carrying enough money to last several days and has since been released, the spokesman said.
He claimed he had been without internet access for several days and intended to have his visa extended in the nearest mainland of Krabi.
The Foreign Office earlier confirmed it was offering consular assistance to Mr Jacobs' family.
He has since posted on his Facebook page: "I'm fine my parents are just over reacting because I said I'm not coming home... and haven't had internet for a long time stop worrying."
Mr Jacobs had been travelling through South East Asia since September last year and was due to return to the UK later.
The Phi Phi islands are part of the Krabi province - the main island is called Ko Phi Phi Don and there are smaller islands such as Ko Phi Phi Leh and Ko Mai Phai.