Wiltshire couple recall 'disaster' wedding 70 years on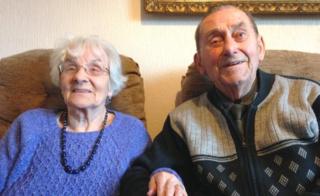 A couple celebrating their 70th wedding anniversary have recalled their special day as being "a disaster".
Reg and Grace Bessant, from Wiltshire, were married in 1945 in the same church as Mr Bessant was baptised and where they have been parishioners since.
Reminiscing about a catalogue of wedding day errors, they recalled a broken organ, missing photographer and how the war halted their honeymoon.
The pair, aged 94 and 89 respectively, celebrate the anniversary on Tuesday.
All Saint's Church in Lydiard Millicent, near Swindon, was the venue where the couple exchanged their vows.
Mr Bessant said: "It was a disaster. I had a Rolls Royce to take me to church and that broke down at the bottom of Kingshill.
"It rained like hell. The organ broke down in the church and the photographer forgot to come."
Mrs Bessant added: "Then he had this telegram, saying 'Come back to Germany Monday, we need you' and we never ever had a honeymoon."
'Wonderful couple'
Every Sunday the pair sit in the same seats next to the 900-year-old font which was used to baptise Mr Bessant as a baby.
The vicar, Reverend Tricia Roberts, described them as a "wonderful couple, who we love dearly".
"When I speak to new couples and say we have a couple who have lasted 70 years, they look almost in disbelief that anybody could manage 70 years," she said.
"Reg and Grace work so well together. Not to say they don't ever disagree with one another, they sometimes disagree quite strongly, but they are together.
"One couldn't imagine them separate."