Wiltshire CCG warns they may have to reduce services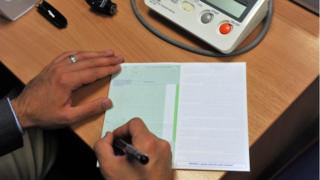 Health bosses in Wiltshire have warned a budget overspend could mean a reduction in IVF treatments, fewer joint replacements and less money to spend on prescription drugs.
The Wiltshire Clinical Commissioning Group (CCG) is predicting it will have overspent by £2.4m in 2015/16.
This follows an unexpected rise in number of operations and treatments.
The CCG oversees primary care, such as GP surgeries, minor injury units and community services in the county.
It warns unless new cost-saving measures put them back on target there could be wider cuts to services.
'Difficult financial situation'
Wiltshire CCG must deliver a required £5.5m surplus in its budget. To achieve this, and make-up the overspend, the group must find savings of £3.1m.
Simon Truelove, head of finance for the CCG, said they may need to reduce treatments such as IVF down to match neighbouring authorities: "If someone is providing one or two [IVF rounds] and we are providing three we will have to take that decision."
He added: "It's still providing IVF but maybe on a reduced scale. If that then allows us to be able to support an older population which is getting more frail, that is what I strive to do."
The CCG said it had already implemented cost-control measures such as reducing its drugs bill and more effective pain management rather than operations.
Patient watchdog Healthwatch Wiltshire said the CCG was "facing a very difficult financial situation".
Chief Executive Emma Cooper said the CCG "needed to have a serious conversation with local people about rationalisation".
Wiltshire CCG had previously forcast a £60m budget overspend by 2021 unless local NHS services change.