Jason Voong detained indefinitely for 'motiveless' manslaughter and assault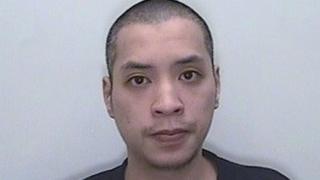 A man who repeatedly stabbed a cyclist and attacked a woman with a snooker cue "without motive" is to be detained indefinitely in a secure hospital.
Jason Voong, of Swindon, was found guilty of the manslaughter of 60-year-old Tom Rogers on the grounds of diminished responsibility on Monday.
The 29-year-old was also convicted of wounding Leanne James, 24, with intent to cause grievous bodily harm.
Voong, of Southbrook Street Extension, will be sent to Broadmoor indefinitely.
Both random attacks - which Voong has never denied - took place on a cycle path near the railway station in Swindon, Wiltshire, in May and June last year.
Mr Rogers, who was cycling home from his shift in a pub kitchen, was attacked and fatally knifed 20 times in the chest and neck by Voong.
His second victim, Miss James was repeatedly hit over the head with a snooker cue as she walked home.
Dr Samrat Sengupta, a consultant forensic psychiatrist at Broadmoor, told Bristol Crown Court that Voong was suffering from a "rare" type of schizophrenia and would "require hospital treatment for years to come".
"It would be very dangerous to release this man into the community without treatment," he said.
'Extremely dangerous person'
"It is possible that he will remain in hospital indefinitely."
Judge Neil Ford QC, sentencing Voong, said: "I have no doubt that you are seriously mentally ill and in your present mental condition - you are an extremely dangerous person.
"I am satisfied that there is a risk of you committing further offences if you are discharged from hospital and there is a clear need to protect the public from the risk of serious harm from you."
Voong was made subject to a hospital order, under the Mental Health Act, and can not be released without the authority of the Secretary of State.