Wood burning stove fire warning over thatched roofs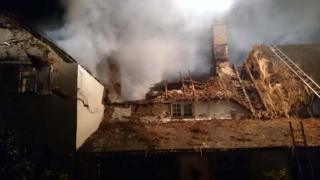 Thatched cottage owners are being warned about the fire risk posed by the fashion for wood burning stoves.
Modern stoves concentrate heat more efficiently than traditional open fires, heating up chimney brickwork and embers which are blown onto the roof.
Chimneys should be swept, qualified installers used and only seasoned wood should be burnt to reduce the risk, firefighters say.
Wiltshire has England's second highest number of thatched homes after Dorset.
Shaun Milton, of Wiltshire Fire Service, said one issue was that because wood burning stoves burn fuel more efficiently, embers that rise through the chimney are hotter when they land on the thatch, than with a traditional open fire.
'Raise awareness'
"Most fires are caused by chimneys in thatched properties - whether open fire or wood burning stoves," he said.
"It's just because [wood burning stoves] are getting more popular, we are trying to raise awareness that you need to get them swept regularly."
The causes of chimney fires in thatched roofs are being investigated by scientists at the Fire Protection Association's base in Moreton-in-Marsh, Gloucestershire.
Iain McCaig of Historic England, which is involved in the study, said the first phase - looking at the risk posed by sparks, was now complete.
"Evidence suggests that most thatched roof fires occur shortly after the wood burner has been lit," he said.
He recommended people fit a flue thermometer, ensure manufacturer's instructions are followed when lighting and stoking the fire, never leave it unattended and ensure the fire is regularly cleaned.