Road near Avebury stone circle recommended for closure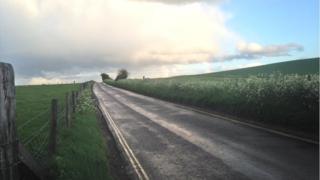 A road near Avebury stones in Wiltshire could be permanently closed to protect the World Heritage Site (WHS).
A new joint management plan for Avebury and Stonehenge recommends closing the B4003, which runs south of the circle.
Beth Thomas, WHS co-ordinator, said traffic along the narrow road was "damaging the archaeological fabric" and closure had to be considered.
But Ben Butler, who farms nearby, said it was "an important route for farm traffic" and a "vital access road".
The joint World Heritage Site management plan has been put together by The National Trust, English Heritage and Wiltshire Council.
Over 170 "action points" have been proposed to improve the WHS setting, including minimising light pollution, advising on development and removing or hiding power lines and "unsightly buildings".
The plan also recommends managing special access for solstice celebrations, reverting the landscape back to grassland to "protect underlying archaeology" and closing the B4003.
"Our main priority is the protection of the WHS and the road actually goes right through the avenue," said Ms Thomas.
"There's no doubt that the road is damaging the archaeological fabric and therefore we couldn't not consider it."
But Mr Butler said the problem was caused by people using the road as a "cut-through".
"There's not only farm traffic, there's cars and it seems to be a cut-through for buses as well, and that's when you start getting damage to the verges," he said.
"It's a vital access road for neighbouring farmers so we would have grave concerns if that was closed permanently."
The plan, which sets out "frameworks for the protection and management" of both sites, is due to be reviewed again in 2021.