Black Wiltshire Police officer was racially harassed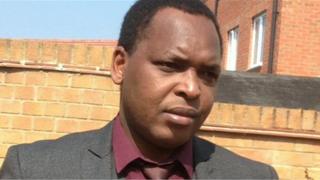 A black policeman was harassed and discriminated against because of his race, an employment tribunal has ruled.
It found that PC Ronnie Lungu, 40, of Wiltshire Police was passed over for promotion and derogatory comments were made about his skin colour.
When he raised the issues with his superiors he was not taken seriously and his complaints brushed aside.
The Bristol tribunal ruled that PC Lungu was unlawfully discriminated against, contrary to the Equality Act.
The judgement upheld the majority of the officer's complaints.
PC Lungu, who joined the force in 2003 after moving to England from Zimbabwe, said he felt "angry and upset" for being "singled out and treated badly" because of the colour of his skin.
He said he would like to remain with the force, but "needs reassurance" that Wiltshire Police would take issues of discrimination seriously in future.
'Serious concerns'
His lawyer, Juliette Franklin, of Slater and Gordon, said: "It's extremely disappointing that people are facing this sort of prejudice and discrimination."
She said Wiltshire Police must take "swift steps" to address its failings.
Chief Constable Patrick Geenty said: "Wiltshire Police take this matter very seriously and I am concerned by the tribunal's findings.
"Clearly, the issues this raises do need to be carefully considered."
He said the force was committed to increasing diversity to reflect the communities it served.
Police and Crime Commissioner for Wiltshire and Swindon, Angus Macpherson described the matter as an "important organisational issue" and said he believes the force "should be reflective of the diverse communities it serves".
Any compensation payout due to PC Lungu will be determined at a later hearing.