99p charity shop Ben Nicholson artwork sells for £4,200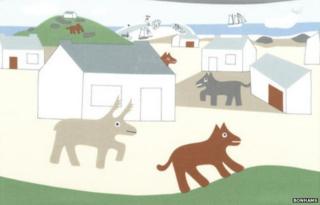 An artwork bought at a charity shop for 99p has sold at auction for £4,200.
The screen-print on fabric, called George and Rufus, was created by English artist Ben Nicholson in 1938.
It is one of four prints made from a single piece of cloth. One of the others is in the V&A Museum in London.
The item was bought in November at a Barnardo's charity shop in Swindon by Jo Heaven, who said she had a "huge grin" when it sold for more than double its reserve price.
'Oh my goodness'
Ms Heaven, from Swindon, said she spotted the picture on the floor behind the counter of the charity shop and bought it because it was "quirky".
"It wasn't until I got it to the car that I saw a message of provenance on the back.
"My mum was an art teacher, so I'd vaguely heard of Ben Nicholson. I thought 'Oh my goodness, what have I found here?'"
She said she would give 10% of the profit to the charity shop where it was found, and the rest would go to a friend's charity that supports projects in Gambia.
The artwork was auctioned at Bonhams in Knightsbridge, central London.
Nicholson, who died in 1982, was an influential painter and sculptor, and created some of the best known abstract paintings in 20th Century British art.