Wiltshire school autism row voicemail 'message revealed'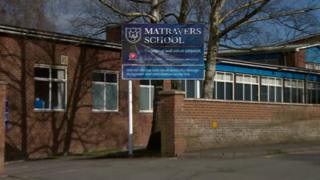 A voicemail message has emerged of a school asking a mother to keep her autistic son at home during an Ofsted inspection.
The parent, who did not want to be named, said she received the call from a member of staff at Matravers School in Westbury, Wiltshire suggesting that her son took an "authorised" absence.
The message said there "may not be the staff to deal with him".
The school apologised for any misunderstanding.
It said there was a "requirement" to inform parents of upcoming inspections, and it was "common practice" to change timetables while inspectors visit.
Another parent, Martin Gillingham, said his 15-year-old son, who has dyslexia, was told by a teacher that his lessons were swapped during the inspection "because they didn't want any disruption in classes".
Mr Gillingham said he received mixed messages from the school as to why the lessons were changed, with one member of staff denying it was due to the inspection, and another admitting it was.
'Unfamiliar adults'
"I don't believe a thing the school tell me anymore. Integrity has gone out the window with them. And I don't believe for one minute they have any intention in telling the truth why they did it." he said.
"I fully believe they are struggling with special needs children, and they just didn't want that to be seen by Ofsted."
Matravers School said: "For some of our most vulnerable students who may have struggled with unfamiliar adults appearing in their lessons or meeting them around the school site we contacted these parents and asked for their help and support in preparing their children for this change to the environment.
The school was visited by Ofsted two weeks ago. The watchdog said it would not comment on individual complaints.
However, it said if the school deliberately withheld evidence from inspectors it would be regarded as a "very serious matter".