Charlie Hebdo: Wiltshire Police 'sorry' for requesting subscribers' details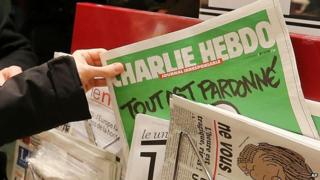 A police force has apologised for collecting the details of subscribers to the satirical magazine Charlie Hebdo in the wake of the Paris massacre.
Wiltshire Police confirmed one of its officers visited a newsagent after the Paris attacks, requesting names of the four people who bought the magazine.
In a statement, the force claimed the officer's motivation had been "purely around enhancing public safety".
The police said the information had since been "securely disposed of".
The matter came to light after a letter published in The Guardian from a reader who said an officer visited a newsagent in north Wiltshire "requesting the names of the four customers who had purchased Charlie Hebdo".
'Requested information'
Wiltshire Police said the force had undertaken its own "assessment of community tensions " following what happened in France.
"As part of this work, local sector policing teams were asked to be mindful of business premises, in particular newsagents who may be distributing the Charlie Hebdo magazine and to consider that these shops may be vulnerable," a statement said.
"A police officer visited a local shop and post office in Corsham to make an assessment of community tensions and, if appropriate, encourage the newsagent's owner to be vigilant.
"During this conversation the officer requested information about subscribers to the Charlie Hebdo magazine.
"Wiltshire Police would like to apologise to the members of public who may be affected by this."
On 7 January, extremist brothers Said and Cherif Kouachi killed 12 people, including two police officers, in the attacks on the satirical magazine's Paris headquarters.
The deaths prompted a wave of support and demand for Charlie Hebdo reached unprecedented levels worldwide.