Guy Ritchie and star friends support Wiltshire children's hospice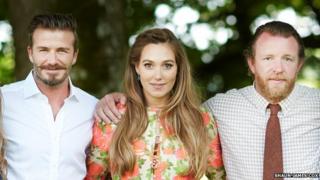 A £3m children's hospice is to be built in Wiltshire after film director Guy Ritchie invited friends including David Beckham to help with fundraising.
Mr Ritchie and fiancée Jacqui Ainsley became patrons of Julia's House after meeting staff at the children's hospice charity's 10th party hosted by Samantha Cameron at 10 Downing Street in 2013.
The new hospice will offer respite and end of life care.
Julia's House said it hopes to open the hospice within two to three years.
The charity already offers home-based community care in South Wiltshire.
The hospice will allow it to extend its support county-wide to other families with life-limited children.
Mr Ritchie organised a private clay shoot and auction at his home on the Dorset/Wiltshire border after visiting the hospice.
Nurses from Julia's House were invited along with David Beckham, actors Robert Downey Jnr and Jamie Dornan, Simon and Yasmin Le Bon, Trudie Styler and the Crown Prince of Bahrain.
The comedian Michael McIntyre provided the entertainment.
Chief Executive of Julia's House, Martin Edwards, said a public appeal will now be launched in Wiltshire to raise the remaining funds.
There is currently no equivalent service for children and families in Wiltshire.