Swindon Town rent row centres on repairs to ground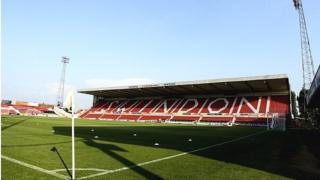 Swindon Town Football Club says a row with the council over rent of the County Ground centres on an unpaid bill for repairs.
Swindon Borough Council says it is owed £50,000 in rent for the ground which it owns, the Swindon Advertiser reported.
But the BBC understands the club has spent a substantial sum, in excess of the owed rent, on repairs.
The council said the club "had not indicated" when it would be paid. The case is due in court on 5 January.
A club statement said it had "expended material costs on repairs and maintenance of the County Ground to ensure that it is in a fit condition so that we can host matches".
"We are keen to come to some understanding with the council on these arrears in light of these significant costs.
"[The club is] currently in active dialogue with them to agree on a pragmatic way forward given that, at heart, both parties have a mutuality of interest in ensuring a compromise is reached."
'Falling down'
Swindon Town chairman Lee Power said on Saturday he was concerned the club was "paying rent on a stadium that's all but falling down".
"It's costing us probably £200,000 to £300,000 a year to maintain," he said.
"We're out of the lease and I don't think it's right for us to have to do this.
"I'm just hoping we can do something that's right for Swindon Borough Council and right for the football club."
A Swindon Borough Council spokesman said the football club was "liable for repairs to the stadium".
He said the term of the previous lease had run from 1 April 1985 until 31 March 2013.
"Although the lease has expired, Swindon Town FC have been 'holding over' which means they remain in occupation and the terms of the original lease still apply," he said.
The council said the lease related to the County Ground and the ticket and sales offices.
£17,000 a month
The council spokesman said: "Under the terms of the lease, Swindon Town Football Club agreed to keep the premises, buildings and structures in good and tenantable repair and condition to the satisfaction of the council and to do all things necessary so that the premises, buildings, structures and access ways shall in all respects be fit for purpose. This still remains the case."
He added the debt owed to the council "included rent owed over several months".
According to documentation obtained by the BBC, the club is spending some £17,000-a-month on renting the town centre stadium.
The County Ground, which has a capacity of 15,700, has been the club's home since 1896.