Murder victim Becky Godden's mother in 'change arrest code' petition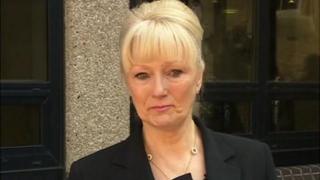 The mother of murder victim Becky Godden, who is campaigning for a change in arrest procedures, is taking a 30,000-name petition to Downing Street.
Christopher Halliwell led police to her body shortly after he confessed to killing Sian O'Callaghan.
But he was not prosecuted after a judge ruled detectives ignored arrest guidelines.
Miss Godden's mother, Karen Edwards, is calling for a review of the Police and Criminal Evidence Act known as PACE.
Halliwell, who is serving a life sentence for the murder of Miss O'Callaghan, admitted killing her and Miss Godden, and even led officers to their bodies.
But a judge ruled confessions made on the day of his arrest were inadmissible because Det Supt Steve Fulcher had ignored arrest guidelines and not read Mr Halliwell his rights when he was arrested.
It is thought Becky Godden was murdered in about 2003. Her body was found in a field in Gloucestershire.
Ms Edwards is petitioning the government to review Code C of the Act, the code of practice for the detention, treatment and questioning of persons by police officers.
She wants the Act to be amended to "ensure injustices such as this do not happen again".
"What we're proposing is - if Steve Fulcher had been wearing a camera and a recording device then it could not have been denied that that's what happened," she said.
"There would have been no judge saying they don't know what happened to get that confession."
Her now 30,000-signature 'Justice for Becky' petition, which was started online in 2012, is due to be handed into Downing Street in January.
"It's been hard knowing my little girl was never coming back home, it's not been easy but Becky would have been proud of me," she said.
"And when I walk through that door at Number 10, it's going to be such a relief because I can now hand the problem over to them."