Wiltshire housing list applicants must reapply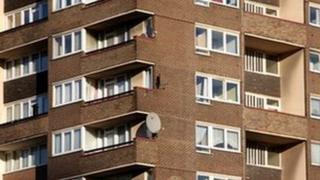 Thousands of people on housing waiting lists in Wiltshire are being told to reapply under new rules about who is eligible for a home.
Up to 23,000 people waiting for social housing in the county have until 8 February to re-register.
Wiltshire Council said the changes to its banding categories will prioritise those most in need as there are many registered with no housing requirement.
However, a Wiltshire housing charity has criticised the move.
Chippenham-based Doorway said people may not be aware of the changes and it could leave some vulnerable people in the county without a home.
The charity's Lisa Lewis urged people to reapply and said: "If you don't, you're going to drop off the list.
"I appreciate the council have got to lose a certain number of people on the list - it's the way they are doing it we have concerns about."
A Wiltshire Council spokesman said there are thousands of people on the housing register with "no housing needs" and the new policy "aims to manage client expectations better by not registering those who are unlikely to be rehoused".