Storm-hit walnut tree in Swindon crafted into pens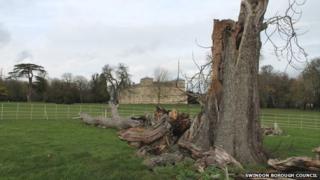 The timber from a 300-year-old walnut tree which perished in last winter's storms has been turned into pens.
Fierce winds last December smashed branches off the tree at Lydiard House in Swindon and also damaged the trunk.
The gardening team at the council-owned estate saved the timber which they deemed usable for wood turning.
Now local craftsman Simon Webb has created a series of pens which are being sold to raise money for the maintenance of the estate and parkland.
According to Swindon Borough Council, the tree was believed to have been one of the country's oldest walnuts having lived through two world wars.
The estate includes a Palladian-style house, church and a walled garden set in 260 acres of parkland.