Fire-hit Swindon Averies recycling plant permit revocation appeal too late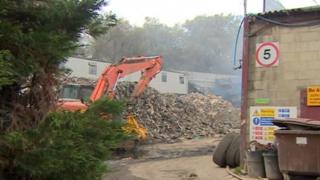 A recycling plant operator in Swindon has left it too late to appeal against the Environment Agency's revocation of its operating licence.
The agency issued the notice to Averies Recycling Ltd after a fire burned at its Marshgate site for two months earlier in the year.
The Planning Inspectorate said it rejected an appeal from Averies as it did not reach it by the required date.
Averies must now cease trading at the site and remove all waste by 15 April.
However, the company did lodge an appeal in time over its skip hire site in Cheney Manor, which is also subject to a revocation notice.
It can continue trading at the site until the appeal is heard in the new year.
The fire at Marshgate lasted for two months and was put out after the removal of 3,000 tonnes of waste to give firefighters access.
The Environment Agency estimated the cost of tackling the fire, which burned from 21 July until 15 September, at £500,000.