Salisbury police HQ closure 'fewer arrests' denial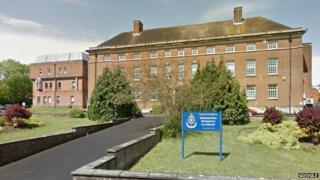 Wiltshire's chief constable has denied the closure of Salisbury's police station has led to fewer arrests.
The county's Police Federation chairman said fewer had been made due to officers having to take prisoners 30 miles (48km) to Melksham.
Chief Constable Pat Geenty said numbers had been stable since the Wilton Road station temporarily closed in June.
A review of custody needs could now lead to the closure becoming permanent in a bid to make £3m of savings.
Mr Geenty said in April he would resign if Salisbury did not get a new custody suite, but a feasibility study into a potential site for a new custody unit in the Churchfields area of the city has been put on hold.
'Heat of the moment'
Instead, a review of custody needs in the central and southern parts of the county has been commissioned.
Mr Geenty said he would not be resigning: "You say things in the heat of the moment, and I was trying to convince and demonstrate to the people of Salisbury that I was committed to a custody suite to replace the Wilton Road facility.
"I am not changing my mind, what I am doing is making absolutely sure that when we spend £6m or £7m on building a new custody suite it's in the right place."
Custody units exist in Swindon and Melksham and Mr Geenty said the county could end up with two units permanently.
'Long drive'
Since the one in Salisbury closed in June prisoners have been driven 30 miles to Melksham, a journey that takes almost an hour, by a prisoner transport team.
Wiltshire Police Federation chairman Mike White said: "There's little doubt that... arrests have dropped in Salisbury as a result of the distance."
However Mr Geenty said: "My statistics are telling me that the arrests on the streets in Salisbury have remained stable and have not gone down."
Salisbury's Conservative MP John Glen said he was "disappointed" the chief constable is "considering reneging on his promise" to locate a new custody suite in Salisbury.
South Wiltshire University Technical College (UTC) is due to take over the building in Wilton Road in Swindon in September 2015.