Jeremy and Sally Anne Jones jailed over 'blind son' insurance scam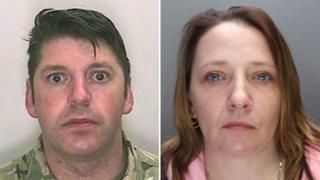 A husband and wife, who falsely claimed £70,000 in compensation after lying that their son had been blinded falling off his bicycle, have been jailed.
Jeremy Jones and wife Sally Anne, were both sent to prison for 12 months after being convicted for fraud.
The court was told the seven-year-old had come off his bike and they claimed his optic nerve had been severed.
The couple were awarded £70,000 but insurers became suspicious after they later made another unrelated claim.
'Car backfired'
Salisbury Crown Court was told a month after the accident, which happened near their home at Bulford Camp army base in Wiltshire, the couple put a claim into AIG insurance telling them their son had been left with a permanent disability.
AIG gave the family a £70,000 lump sum in October 2010 but became suspicious when they asked for a further £35,000 in compensation in May 2012.
The couple, both 38, said the money was required because Mrs Jones had been left deaf in her right ear after their car backfired in their garage.
A criminal investigation begun after their insurers contacted the City of London Police.
Couple 'shameless'
The Joneses were both jailed for 12 months and also ordered to serve two three-month sentences each for forging medical documents, to run concurrently.
Mr Jones was ordered to repay £42,000 to AIG, which will come from a £52,000 payout obtained from voluntary redundancy from the British Army.
Speaking after the case Det Insp Oliver Little described the couple, who are now estranged, as "shameless".
"Resolute on getting a payout, they even forged medical documentation to support their spurious stories," Mr Little said.
David Halstead, from AIG, said: "Customers should not have to pay the price for fraudsters through higher premiums."