Wiltshire Police make arrests and seize drugs and cash in raids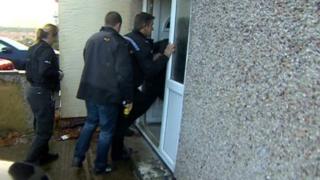 Police arrested nine people and seized almost £50,000 in cash after carrying out raids across Wiltshire.
The "day of action" called Operation Harness was held on Saturday and conducted in Swindon, Melksham and Amesbury.
Det Insp Paul Fisher said they were targeting "dangerous drug networks" in the supply of Class A drugs.
He said a lot of the criminal activity could be traced back to London-based drug pushers coming to the county.
Det Insp Fisher said the success of days such as Operation Harness were reliant on information provided by the local community.
He said: "Often the very best intelligence comes from people telling us 'something next door doesn't look right'.
"Although we've got a lot of ways of gathering intelligence in modern policing, what people see in their roads, or what looks out of place, or what changes is really important.
"[This is] because the networks can sometimes be very transient and so people will come from other urban areas into the town with the purpose of selling drugs.
"So today is a day where we try to find those drugs and find that money and disrupt that activity - make some arrests, keep people out of the town and out of the county."
He said police had recovered both Class A and Class B drugs and also weapons including what was believed to be a Taser stun gun.