Malmesbury residents approve homes plan in referendum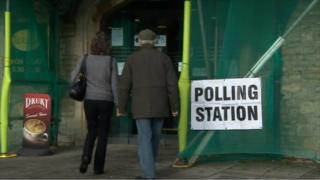 People in Malmesbury have voted to approve a planning document that will decide where homes and businesses should be built for the next 12 years.
On Thursday evening, nearly 2,000 people voted for the neighbourhood plan devised by a group of local residents.
The ballot was the first of its kind in Wiltshire attracting a turnout of 32.4%.
Other communities like Devizes, Pewsey and Limpley Stoke are expected to adopt the same approach next year.
The referendum asked voters if they wanted Wiltshire Council to use the plan to help the local authority decide on planning applications in the area.
Simon Killane, who chairs the Malmesbury Neighbourhood Plan, said: "We made sure everybody in the three parishes knew exactly what was going on and had the chance to vote and that's democracy for you."
A total of 1,768 voted for the plan, and 190 against. Three ballot papers were rejected.