Fire-hit Swindon Averies waste recycling plant permit revoked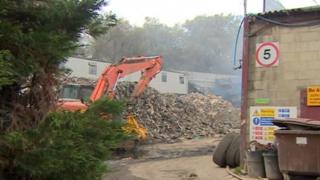 The Environment Agency is revoking the operating licence of a recycling plant operator in Swindon after a fire burned at one of its sites for two months.
It issued the notice to Averies Ltd which runs a waste centre at Marshgate and skip hire site in Cheney Manor.
A fire at Marshgate lasted for two months, and was only put out after 3,000 tonnes of waste was removed to give firefighters access.
The agency has also refused to renew Averies' license as a waste carrier.
It estimated the cost of tackling the fire, which burned from 21 July until 15 September, at £500,000.
After the fire was finally extinguished, Swindon borough councillors voted unanimously to pursue "all legal avenues" to close the recycling centre.
Conservative council leader David Renard said the closure of the site was the "statutory responsibility of the Environment Agency".
Subject to any appeal, the revocation notice comes into effect on 11 December, and Averies has until 15 April to remove all waste from its Marshgate site and until 4 March from Brindley Close.
Averies Recycling was contacted for comment but has yet to respond.