Bradford-on-Avon 'gaudy' Christmas tree decor changed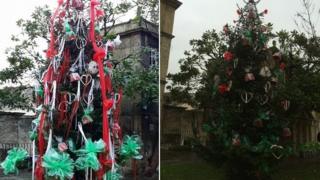 Decorations on a town's Christmas tree have been altered after they were described as a "total mess".
Bradford-on-Avon's tree was decorated by Pavilion Cafe owner Andrew Allen who said he wanted it to be "eye-catching".
But some Facebook users said the design was "gaudy" and looked like "an explosion in a rag factory".
Mr Allen, who declined to take part in the redesign of the decorations, said he was "disappointed" but "like James Bond I'll be back".
'It's dull'
The decorations were altered in time for the switch-on of the lights on Friday evening.
"I think it [the redesign] was political - it was bowing to the public outrage," Mr Allen said.
"It's not a talking point any more it's ordinary. It's dull and I'm disappointed.
"Maybe it was too extreme for the conservative townsfolk of Bradford-on-Avon."
'Flamboyant'
Bradford-on-Avon's mayor, John Potter, said it was "a shame" the tree had been altered.
"We've toned it all down now. It was rather flamboyant. Perhaps rather too flamboyant for Bradford-on-Avon.
"It's been tweeted half way round the world. It's the most famous tree in Britain now," he added.
Do you have an image of a Christmas tree to rival that of Bradford-on-Avon's? Send your pictures and videos to yourpics@bbc.co.uk or text them to 61124 (UK) or +44 7624 800 100 (International). If you have a large file you can upload here.