Eight injured by stray firework at Christmas display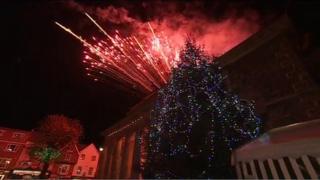 Eight people have been injured by a stray firework that fell in to the crowd during a display to switch on the Christmas lights in Salisbury.
One person was taken to Salisbury District Hospital by ambulance but is not believed to be seriously hurt.
Brett Bowles, who was also injured, said it was like he had been "hit by a bottle".
Salisbury City Council said it appeared that a "firework malfunctioned" but it was "investigating further".
Mr Bowles said: "I was stood with my daughter in my arms watching the fireworks.
"The first few had gone over and then it felt like someone had thrown a bottle, which hit me in the side of the head.
"Then I looked down on the floor and there were some old firework remains there and the blood just pouring down my head."
A Salisbury City Council spokesman, said the authority "apologises for any distress this incident has caused".
"The council are currently carrying out a full and thorough investigation with all those involved," he said.