Missing Sallyann John's mother makes plea over daughter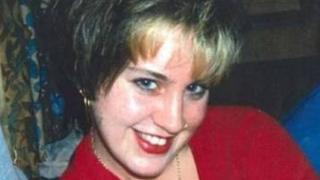 The mother of a woman who police suspect was murdered said she believed "someone out there" knows what happened to her daughter.
Sallyann John had been working as a prostitute when she disappeared from Swindon in 1995, aged 23.
Ms John's case was reopened by police after they received "significant new information".
Her mother, Lesley John, said it was "horrible" to think her daughter might have been "hurt or alone".
Detectives said they have been contacted by several people since the inquiry restarted and have a number of leads to follow up.
'Beautiful girl'
Leaflets are being handed out on Alesbury Street and Station Road where she was last seen.
Mrs John added: "She was a bright and beautiful girl who could make anyone smile. She had lots of friends in Swindon and many people knew her.
"I still cannot believe that in all these years no one has come forward to say where Sally is.
"We really want to know what happened to Sally and someone in Swindon has this information, so I am pleading with you to go to the police."