Stonehenge tunnel idea backed by CBI's John Cridland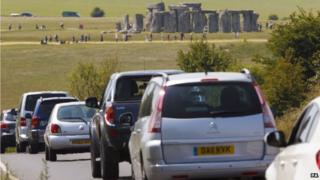 Building a tunnel under Stonehenge is "vital" to boost the UK economy, the boss of the CBI has said.
The business group's director general John Cridland said congestion had to be reduced on the A303, which runs past the monument in Wiltshire.
Mr Cridland said: "The most significant barrier is Stonehenge. You obviously can't move it, so why not go under it?"
An announcement about upgrading the whole A303 is expected in the chancellor's Autumn Statement.
Infrastructure hope
Proposals to build a tunnel under Stonehenge, as well as dual parts of the A303/A30/A358 corridor, were dropped seven years ago on cost grounds.
But since then, lobbying to improve road links has continued from councils in the west country.
John Glen, the Conservative MP for Salisbury, reignited calls for a tunnel to be constructed alongside the Stonehenge monument.
Despite the road layout being changed at Stonehenge, the stretch of single carriageway still has many traffic jams.
Senior Druid King Arthur Pendragon campaigns to protect the ancient monument and ensure public access.
He said: "They can count on my support only if I am given 'cast iron' assurances that any human remains found during the process are re-interred as close as possible to what should have been their final resting place.
"Otherwise they can count on my opposition and and I shall lead a protest against them."
'Serious damage'
The National Trust and English Heritage both say they will work with the government to find a solution, including the option of building a tunnel.
Matthew Ford, from the Campaign to Protect Rural England [CPRE] said: "Taking the road underground could enhance the tranquillity of Stonehenge, but a cheaper and shorter tunnel would be a short-sighted fix that could cause permanent damage.
"The government needs to look to the long-term, making every effort to improve sustainable public transport and alternative travel options in the area first.
"Only then should they consider a longer tunnel option that will spare the serious damage a shorter tunnel would inflict."