Great Western Hospitals trust finances investigated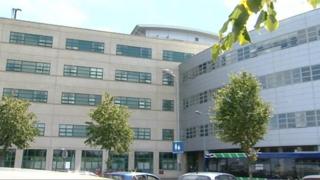 An investigation has been launched into financial problems at Great Western Hospitals in Wiltshire.
The NHS foundation trust says it is expecting to end the year with a £2.9m deficit.
Health services regulator Monitor, which is leading the inquiry, said part of the problem was increasing hospital costs because of more patients needing emergency treatment.
No decision has been made on whether further action will be needed.
Nerissa Vaughan, the trust's chief executive, said: "This year we are working hard to manage a 15% increase in unplanned activity compared to last year, this means we are now treating around 300 more unplanned patients each month.
"At the same time, we are also spending money on agency staff, which is expensive, but necessary, to ensure we have the right number of staff, in the right places.
"However, due to a national shortage, recruiting nurses in particular is a real challenge."
'Difficult time'
She said the trust had plans in place to reduce the deficit, but it would be "a tough winter".
"At this difficult time, Monitor will work with us and our partners across the local healthcare system to understand why we are now expecting a deficit and consider any actions which may help.
"This fresh look will be particularly helpful to ensure our plans as a healthcare system are strong, and together we can make any necessary improvements."
Ms Vaughan said despite the financial challenges, the trust had maintained strong performance, good services and high quality patient care.
Monitor said while the trust had put plans in place to improve its finances, it wanted to understand whether more should be done to tackle the problem in the long term.
Deputy regional director Laura Mills said: "Great Western is facing a difficult financial situation, and we need to find out why.
"We are investigating to find out how we can help the trust to fix these problems, and whether we need to take further action on behalf of patients."