Swindon children's centre cuts to go ahead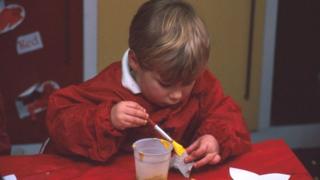 Councillors have voted to make further funding cuts to children's centres in Swindon.
The Conservative-run local authority plans to reduce the budget by £770,000 by closing seven centres.
It comes a year after Swindon Borough Council's cabinet agreed a £380,000 cut to its children's centres budget.
The move has been criticised by the local Labour party, and a group of parents protested outside the council offices on Wednesday night.
Wendy Smart was at the protest and said it was "really important" the centres remained open to help "struggling" parents.
Butterflies, Ladybird, Eldene, Croft, Saltway, Robert Le Kyng, and West Swindon centres will close.
They will be replaced by "multi-generational family centres" in the town centre and west Swindon, which are free of Ofsted control.
'Incredibly short-sighted'
Councillor Jim Grant, Labour group leader in Swindon, described the decision to close the centres as "incredibly short-sighted".
He said: "Children's centres are the best form of keeping kids out of social care."
Swindon Borough Council said centres catering to the most vulnerable children have been "ring-fenced" and would remain open.
Conservative councillor Fionuala Foley said: "We have to ensure that our money is targeted to our most vulnerable members of society."
She confirmed that following a consultation on the cuts £194,000 will be invested in an outreach programme.
The changes are expected to come into effect by April.